West Palm Beach Boating Accident Attorney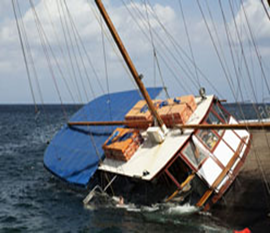 Statistics published by the U.S. Coast Guard show that Florida has more boating accidents than any other state. Drowning in a boating accident is the primary cause of death in boating accident fatalities while colliding with another vessel is the No. 1 type of accident. Our West Palm Beach law office is located at 1645 Palm Beach Lakes Blvd #900, and you can call us any time of the day or night at (561) 566-5021 to schedule your free consultation!
Regardless of the circumstances or cause, a boating accident can wreak major havoc on your life. Injuries and death along with property damage may follow. In the wake of such an event in or around West Palm Beach, you should turn to an experienced personal injury firm. Steinger, Greene & Feiner provides representation that has been rated top-notch by legal industry groups like Avvo and Martindale-Hubbell. We have the experience, commitment, and resources needed to handle all of the legal details of your claim while you recover your health and your equilibrium.
Legal Compensation for Boat Accident Victims
Boating operators can be negligent, just like drivers who act irresponsibly on our roads and highways. A boating accident can be caused by an operator who:
Fails to pay attention
Uses excessive speed
Fails to take proper safety precautions
Boats while under the influence of alcohol and/or drugs
Has not been properly trained
Has no proper lookout
Acts in any way that is careless, reckless, or negligent
When such behavior leads to an accident in which you are injured or lose a loved one, the responsible operator may be held liable for damages. Determining and proving that liability is part of the claims process. With the help of a West Palm Beach boating accident lawyer at Steinger, Greene & Feiner, your claim can be prepared and substantiated with professional methods and tactics.
We have successfully represented countless clients in legal claims since 1997; we know what to do and how to do it. We take our job seriously because we know how much may be riding on how well we perform – things like damages for your medical expenses, lost wages or income, pain, suffering, and more. Our West Palm Beach personal injury attorneys have been fighting for and protecting the interests of individuals and their families through personal injury claims for more than a decade.
My case couldn't have been handled better. It was handled in a timely manner - it wasn't rushed. If something ever happened again and I needed an attorney, Steinger, Greene & Feiner would be the first place I would go.
Susan D.
RELENTLESS LEGAL REPRESENTATION FOR WEST PALM BEACH INJURY VICTIMS
A personal injury can occur in a variety of ways, but almost all have the same results in common. Suddenly, your life is disrupted and possibly jeopardized physically, emotionally, and financially by an accident or incident which could have been prevented.
Why You Need Legal Representation Following a West Palm Beach Boating Accident
After a traumatic accident, you may not be up to the demands of handling a claim. You may not know how to adequately deal with the questions and complications that can arise. The insurance company you're involved with may try to convince you to take a settlement that is well short of your actual damages. Our firm handles these types of issues all day every day. We know how to stand up to insurance companies and fight for your best interests at a time when you are at a disadvantage. With more than 30 attorneys and over 130 support personnel, we have the resources to get the job done.
How Much Can Steinger, Greene & Feiner Get You?
Our firm can act as your first responder in the event of a boating accident. Don't talk to the insurance company before you call us. Your first consultation is always free and you'll never pay any fees until we resolve your case. Let us be the lookout for your best interests. Contact our firm any day of the week, 24 hours a day: (561) 566-5021.