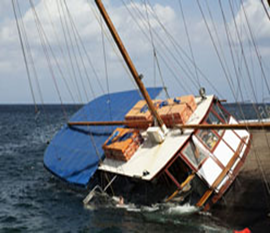 A woman has been missing at sea since May, and her husband wants his wife declared dead. The man filed a motion in a Florida court to have his new bride declared dead via a presumptive death certificate.
According to reports, the woman was last seen on May 14 when she and her husband were aboard their boat. That boat collided with an unknown object and the man abandoned the sinking vessel. He told the Coast Guard, at that time, that he was unaware of his wife's location. The pair were the only people aboard the boat at the time of the accident.
Crews from the Coast Guard searched extensively for several days over a course that covered nearly 5,000 nautical miles. The woman's body was never located. According to state law, a person has to be missing for no less than five years before they can legally be declared dead.
Though the man has not been charged in connection with his wife's disappearance, he is in custody on unrelated matters involving stolen coins. A hearing is scheduled with regards to the presumptive ruling of death on October 19.
If you have been involved in a boating accident in West Palm Beach, reach out to our attorneys for assistance. You may be entitled to compensation for medical bills and more. We can help you schedule an appointment for a free case evaluation and advise you of your legal rights. Don't assume that you have no recourse – we are here for you.